Laser Dermatology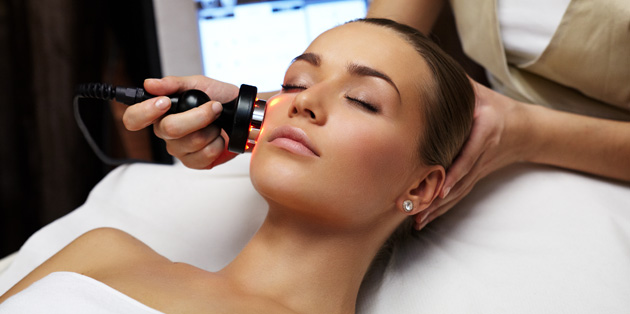 LightSheer® DUET laser
A giant step forward in hair removal! The LightSheer® DUET represents state-of-the-art technology for fast, gentle and precise laser hair reduction. How does it work? The LightSheer® DUET is a laser that produces a large but precise beam of highly concentrated light that targets the pigment located in hair follicles (which gives hair its colour). During treatment, the laser pulses for only a fraction of a second, allowing the hair to absorb the light and heat up, but without damaging the surrounding skin. As it heats up, the hair shaft and bulb are damaged, significantly impeding its ability re-grow. The LightSheer® DUET offers two handpiece choices depending on the area to be treated. The larger High Speed handpiece uses breakthrough vacuum-assisted technology to allow fast and comfortable treatment of large areas. For example, a back or legs can now be treated in 15-20 minutes, without the need for numbing cream. The smaller handpiece is equipped with ChillTip® cooling to allow comfortable and precise treatment of smaller areas. How is it different to older laser systems and IPL? Most hair removal treatments to date have been based on intense pulsed light (IPL). However, failure rates were high, as was the risk of adverse effects such as laser burns, especially when performed by poorly trained operators. What else makes the LightSheer® DUET so unique?
It's fast: LightSheer® has the largest spot size of any diode laser available making it more than 75% faster than the average hair reduction treatment
It's easy: no numbing cream and no messy gels are required
It's relatively painless: LightSheer® features unique vacuum-assist and ChillTip technologies for pain relief
It's effective: The LightSheer®'s 800 nm wavelength, larger spot size and chilled handpiece allows safer, deeper penetration into the skin than was previously possible. This allows energy to be delivered more efficiently, providing faster clinical results with record speed and comfort
It can be used on any area of the body and with any skin type
Don't risk your skin with out-dated, inferior equipment. Make an appointment with one of our highly trained laser practitioners now!
Fraxel™ Re:Store Dual Laser
The latest in laser technology for repairing aging and sun-damaged skin, achieving smoother, fresher looking skin with improved tone, texture, pore size and reduced wrinkles. Unlike other laser treatments, Fraxel™ treatment precisely treats thousands of microscopic areas of skin using pinpoint laser beams that penetrate beneath the skin's surface. It creates microscopic zones of thermal injury in both the epidermis (the top layer of skin) and dermis (the second layer) but leaves the surrounding islands of tissue undamaged. These microthermal zones stimulate the body's own natural healing process which eliminates old, damaged cells and stimulates the formation of new collagen (the main support structure of skin). Whereas traditional resurfacing lasers stripped the entire skin surface, Fraxel™ treatments target between 5 and 35% of the surface, leaving the remainder available to rapidly heal the treated areas. The Fraxel™ Re:store Dual wavelength laser is enhanced with an additional wavelength that more effectively targets and accelerates the clearance of unwanted pigmentation with less discomfort. The Dual laser has the option of using the deep penetrating Erbium fibre laser (1550 nm) as well as a new, more superficial Thulium fibre laser (1927 nm), to better address all aspects of photorejuvenation. Fraxel™ laser can be used to treat:
Acne scarring
Surgical scars
Stretch marks
Age spots, patchy pigmentation
Fine lines and wrinkles (including around the eyes)
Skin tone and texture on the face, neck, chest and hands
'Open pores'
Sun spots or solar keratoses
Resistant melasma ('mask of pregnancy')



Treatments can be performed under a local anesthetic, have a reduced risk of complications and have a much faster healing time than traditional resurfacing lasers. It is also safe to use in patients with darker skin types and on sensitive areas such as the neck and chest. As it is gentler than the traditional 'stripping' lasers, multiple treatments are usually required. A consultation will determine whether you will benefit from Fraxel™ laser, and the likely cosmetic outcome, number of treatments and potential side effects will be explained. Many patients elect to have treatments on a Friday, allowing some recovery time over the weekend, as there is a degree of redness and swelling. For more information visit www.fraxel.com
Emerge™  Fractional Laser
This smart approach to skin resurfacing reduces fine lines, wrinkles, stretch marks, acne and surgical scars with faster healing time and reduced side effects.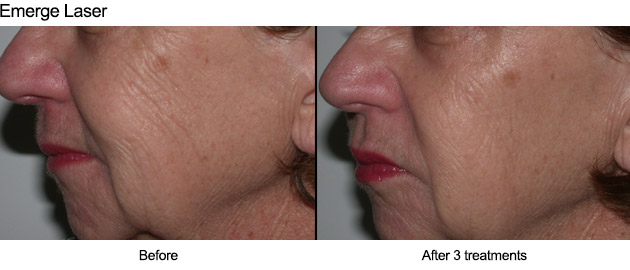 Many dermatological and cosmetic skin conditions can be improved by fractional laser skin resurfacing. The Emerge laser is a gentler laser that utilizes the same principals as the Fraxel™ laser, to create new, healthy tissue and stimulate production of collagen and elastin, the building blocks of youthful-looking skin. It can be used on virtually any trouble spot of the body including face, neck, chest, arms, and legs. As the Emerge™ Fractional Laser does not penetrate as deeply as our Fraxel™ Re:store laser, no topical local anaesthetic is required. It provides non-ablative skin resurfacing results with minimal downtime and at a fraction of the cost. Generally 3-5 treatments are recommended. For more information visit: www.emergelaser.com.au
VBeam® Perfecta Pulsed Dye Laser
The laser delivers an intense but gentle burst of yellow light to selectively targeted areas of the skin. It is regarded as the 'gold standard' for the treatment of vascular conditions.



The laser light is selectively absorbed by excess superficial blood vessels in the skin and can be used to treat:
Redness of the face and neck
Rosacea
Broken capillaries
Spider naevi, angiomas and haemangiomas, venous lakes
Port wine stains and some other birthmarks
Early scars and red stretchmarks
Some fine, red leg veins
Your Dermatologist will assess whether your condition is suitable for treatment, and discuss the likely cosmetic outcome, suggested number of treatments and potential side-effects. Patients with port wine stains or birthmarks and some with redness or broken capillaries on the head and neck may qualify for a Medicare rebate that covers some of the cost of laser treatments. The number of treatments required varies depending on the condition being treated.
Medlite® C6 Q-Switched Nd:YAG Laser
Say "good-bye" to brown age spots, and "hello" to younger looking skin with the ability 'zap away' unwanted birthmarks, age spots and tattoos.



The Medlite® Q-switched Nd:YAG laser is one of the most technologically advanced lasers for removing pigmented lesions with minimal risk of damaging your normal skin. It emits a powerful beam of specialised light that targets the unwanted skin pigment to remove it, with minimal risk of damaging your normal skin. The ultrashort pulses of light and high energies can also be used to shatter tattoo ink particles, removing unwanted tattoos. Because of the multiple ink colours, different dyes used and the different types of tattoos, response to laser treatment is variable. The laser can be used to treat:
Freckles
Age spots
Pigmented (brown) birthmarks
Café au lait macules
Tattoos
Iron staining
The impact of the laser is similar to the snap of a rubber band on the skin. Most patients do not require anaesthetic although numbing creams are available if needed. Most brown spots are removed with one or two treatments, but deeper lesions, tattoos and birthmarks require multiple treatments.
Erbium and CO2 Laser
These traditional 'resurfacing' lasers work by removing fine layers of damaged skin, allowing new undamaged skin cells to grow. They also promote collagen stimulation resulting in skin tightening and smoothing. Although they can be used for treating wrinkles, sun damage and acne scaring, newer fractional lasers are now a safer option for most patients. These lasers are mainly used for treating precancerous changes on the lower lip (actinic cheilitis). Dr Michelle Hunt performs these treatments at the Skin and Cancer Foundation, Westmead.